I feel like my blog posts have been uninspired lately.  I, on the other hand, have been inspired, but it's taken some time for that inspiration to settle into words and sentences.
On Monday, I wanted to say something about how Natalie Taylor's book Signs of Life woke me up, but once I started, I couldn't.  I didn't experience anything close to what she experienced.  How could I talk about relating to her story?
That's how I felt after I read it before I left for DC, too.  And I tried to just take that with me.  My darkness, feeling lost, it was nothing compared to what she experienced.  I had no right to feel anything but lucky.  I just kept telling myself that.
I was on the plane to DC when I finally realized that mindset was the exact thing I had fought against for the last ten years.  As Dumbledore said, "Of course it is happening inside your head, Harry, but why on earth should that mean that it is not real?""
Feelings don't disappear just because they're not understood.  And minimizing them rarely does anything good for a person's soul.  In fact, it might be one of the most dangerous things people do.
When I was on that plane, I started thinking about someone.  I've spent most of the last ten years not talking about him, and not writing about him, because I've never felt like I was allowed to.  I've been thinking about him a lot lately.  I lost him because the darkness became too much and no one understood.  Losing him is what saved me.  I saw what it did to his brothers, and promised never to do that to my sister.
I learned every time someone says "You're fine" or "It's not that bad" you have to tune them out and answer for yourself.  Sometimes it's not fine.  Sometimes it is that bad.  And if you can't acknowledge that, how will you ever fix it before it gets TOO bad?
Never let a crisis go to waste.  It's one of the things I've gotten out of the book I'm reading.  A crisis lets you do things you couldn't do before.  It's an opportunity to put the pieces back together in a different way.  A better way.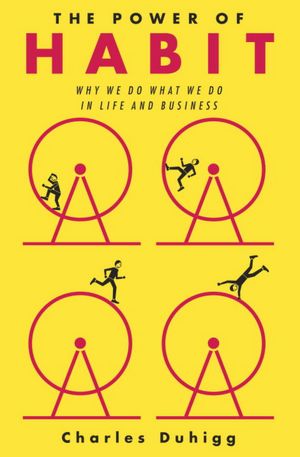 How I ended up reading The Power of Habit to begin with?  Well, I had heard about it from my sister, a marketing major, when it first came out.  It turns out Target can know a girl is pregnant before she tells her parents (true story… you really want to read this book).  Anyway, apparently the author, Charles Duhigg, was on a morning show and said something about getting out of the habit of eating cookies in the afternoon.  My sister proceeded to tweet something about why she wouldn't want to not eat cookies in the afternoon, he responded… Somehow it led to her telling me about this.
That was months ago.  Then Friday, I'm in Barnes and Noble looking for a book and two people within earshot of me go up to the counter and ask where this book is.  One of them buys two copies herself.  Now I needed to read it.  I'm about 3/4 of the way through… it's strangely fascinating.  I'm particularly fascinated with this idea of keystone habits… that there are certain habits which lead to changes in other habits.  Those core habits that you need to change, so everything else can fall into place.
I have all these ideas about how I want my life to look different, but I've never been good at making resolutions stick. A little bit of science might go a long way in changing that.  Or not.  But it's worth a shot.